'Everything that is made beautiful and fair and lovely is made for the eye of one who sees.'  Rumi
Welcome to The Stitch Safari official website.  I'm so excited to be able to now present this beautiful new website, focussing on stitch, cloth, weaving, literature and art – anything relatable to the world of needle art.
Passion can be a wonderful driving force, and that's exactly what's happening here.  I'm driven to explore, research, and learn, and believe me, I am.  It's an absolutely amazing journey, so I'm thrilled you're here with me.
There's just so much 'out there' that can be linked to the simple act of threading a needle, making yarn or weaving threads upon a loom, and I have both the time and the inclination, to read and discover these linking, interlocking threads, scattered through time and accomplishments to present them here on this website.  They'll include history, innovation, trade, art, literature, fashion, cloth, technique, tools – whatever touches on the use of the simple act of stitch along with the natural and man-made fibres we use to stitch upon.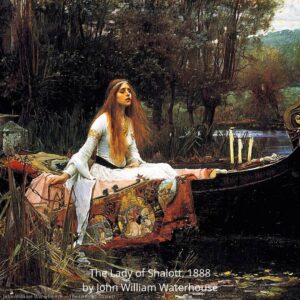 I'm currently researching the tragically beautiful poem, The Lady of Shalott, by Alfred Lord Tennyson, as well as the work of John William Waterhouse.  Why?  Because the poem centres around a curse upon a beautiful maiden who weaves … 'No time hath she to sport and play: a charmed web, she weaves alway, a curse is on her, if she stay her weaving, either night or day…'  She's weaving images of the world she can only look upon by shadowy, reflected mirror images, but the point here is she's weaving – an occupation that goes back to Ancient Egypt and far beyond.  And John William Waterhouse painted three stunningly beautiful, ethereal paintings depicting the Lady of Shalott, and her weaving, the loom, the yarn, and even the shuttles – now I find both the poem and the artworks, fascinating.
The painting left shows her tapestry trailing in the water and the one below shows the moment The Lady of Shalott sees Lancelot, caught up in her web of threads.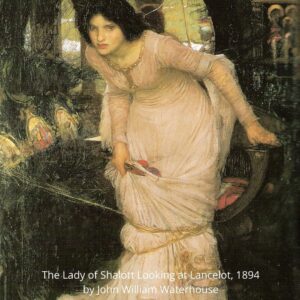 If you're like me and love art, check out two of my Pinterest Boards, Art: Stitch in Art and Art: Embroidery in Art.  One focuses on people in the act of sewing, the other is the outcome, the beautiful clothing, and lace they wear.  Grab a coffee and enjoy.
Stitch, embroidery, needlework – whatever you wish to call it, still captivates people worldwide.  Whether it's through industry, (and let's not forget about 60% of global workers are employed in textile-related industries) passion, mindfulness, fashion, necessity, or culture, working with a needle and thread is still important and relevant in many lives today.  Let's also remember the importance of re-purposing and recycling cloth and clothing, something our ancestors would have done as a matter of course.  Textiles were of great importance then, as they still are today.  It's an expensive, treasured resource and we need to respect that.
'As you practice slow and intentional stitching, your life, your attitude, your creativity, your health, your spirituality….All of it will benefit as a result.'  Mark Lipinski, The Slow Stitch Movement
So I hope you'll join me here where I'll plunder the past, then leap directly into the future.  Innovation is always happening, but in a world where the emphasis is on 'fast' – fast cars, fast food, fast fashion, even fast technology, this is one area of endeavour where the complete opposite is its unique appeal.
Together, let's savour this rewardingly sustaining world of embellishment, adornment, construction, repurposing, and ornamentation – one stitch at a time.
Image credits:  The Lady of Shalott, by John William Waterhouse, 1888. By Multiple Authors – http://de.most-famous-paintings.com/MostFamousPaintings.nsf/A?Open&A=8BWTJB, CC0, https://commons.wikimedia.org/w/index.php?curid=77164161, I Am Half-Sick of Shadows, Said The Lady of Shalott, 1915, by John William Waterhouse.  By John William Waterhouse – Unknown source, Public Domain, https://commons.wikimedia.org/w/index.php?curid=1170865, The Lady of Shalott Looking at Lancelot, 1894, by John William Waterhouse.  By John William Waterhouse – Unknown source, Public Domain, https://commons.wikimedia.org/w/index.php?curid=1064193